Creating quality social content
Quality content is essential to successfully connect with audiences via social media. Learn from what other organizations like yours do well on social media, but don't be afraid to try something new. If you want to stand out, you will need to do something that is different from what has been done before — something that is uniquely you.
Play to your strengths:
Focus: Choose a few things you can do very well, and invest strategically in original content
Collaborate: Ask staff, fans, or volunteers to help capture photos and videos; encourage audiences or customers to post photos and videos and tag you
Know your audience: Pay attention to which types of content your audience responds best to, and give them more of it.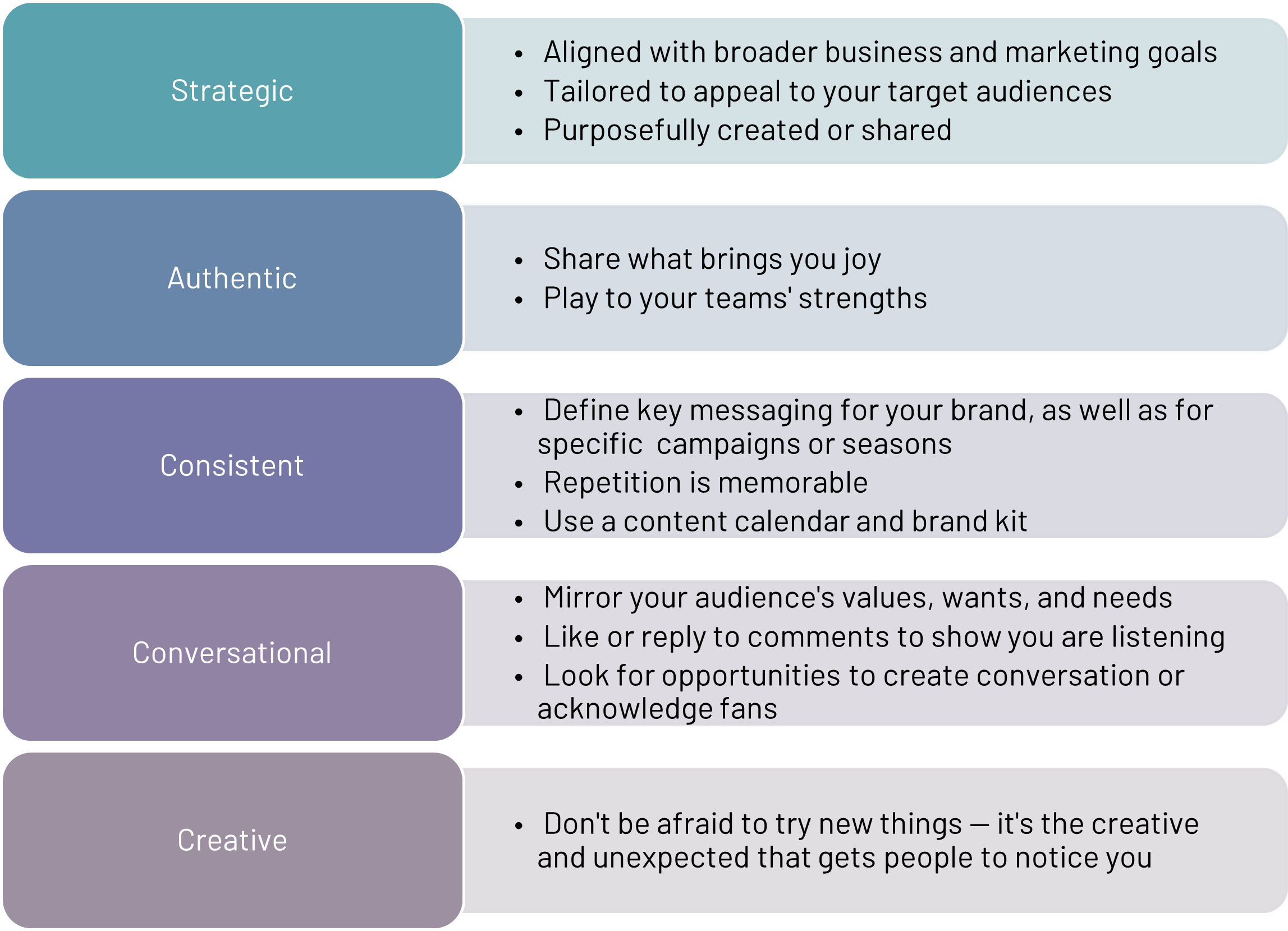 View or download the complete PDF file here.
Social Media Marketing November 2021
Written by Briana Doyle, Troubadours & Vagabonds Productions
With contributions and reviewed by Inga Petri, Strategic Moves
Links to Topics
Need inspiration? Remember the three Cs
It can be overwhelming for many people to feel like they need to constantly have something new to post on social, especially when time and content creation resources are limited.  The good news is that you don't have to spend all your time taking photos, making videos, and writing copy for social media. Content creation is just one of the "three Cs" that make a dynamic and interesting feed:
Content Creation
Write, make videos, take pictures, record podcasts, produce illustrations or infographics … you get the idea.
Content Curation
Shine a spotlight on artists or partner organizations, or share relevant, insightful, or inspiring posts, articles, videos, or other media that others produce.
Conversational Content
It's called social media for a reason! Remember to include conversational content in your media mix. It's easy to do: interview an artist or expert, ask your audience a question, create a poll, post something that is a reply or response to another person or organization, or join a conversation that's already happening on social media by including relevant hashtags in your posts.
Conclusion
Social media algorithms and features are constantly changing, but platforms like Facebook, Instagram, TikTok, Twitter, and more, are here to stay. These sites can be powerful ways to engage more deeply with your core audience, as well as to reach new audiences, but it does require a notable investment of time and/or money to do this well. The best way to ensure a positive return on that investment is to approach social media purposefully. Every tweak to an algorithm and every feature addition is aimed at getting users to spend even more time engaging with the content on these sites, usually by presenting users with more of the content they like best. By focusing on deepening your connection with your audience and creating content that is tailored to their wants and needs, you'll be more likely to stand out within a cluttered news feed.